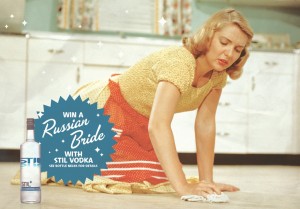 by Pamela Redmond Satran
You there, with the coffee mug full of clear liquid, sipping vodka because you think it won't make you reek of alcohol at your 9 a.m. meeting: I'm not actually talking to you.
No, this directive is aimed at all you casual Cosmo lovers, you Saturday night vodka martini drinkers, you Bloody Mary and vodka tonic tipplers.
You probably developed your taste for vodka way back before you really knew much about drinking, precisely because vodka didn't have much taste.  You could mix it with anything — Gatorade, say — and manage to get efficiently wasted without gagging on any of those overly adult flavors.
Plus, vodka was the new liquor, freshly risen from the Russian gulag, the people's poison.  Drinking it was revolutionary, almost.  In 1968.
Which is exactly why the Evil Young have turned their backs on vodka, which is now officially The Liquor of The 52-Year-Old.  So what, if you want not to act old, are you supposed to drink instead?
Gin is always groovy.  Likewise, most brown liquors, especially Woodford Reserve bourbon or rye, like your Uncle Stanley used to drink.  Tequila, not so much.  Basically, anything you've been drinking all these years is bad, and anything your parents served in the early 60s is good.
If you've been to a hipster bar recently, you know that mixology is the thing: Precious cocktails concocted from a drop of this and a dram of that.  Last week I went to the most uber-hipster of them all, Freemans Restaurant on the Lower East Side, and happily settled into the hunting lodge-style atmosphere — from before even I was born! –  and ordered a Freemans Cocktail.
Never mind that the bartender had, as the New York Times' Frank Bruni put it, all the charisma of Cujo.  The glimmering gold cocktail standing atop the zinc bar beneath the stuffed deer's head looked so poetic, I was moved to hop off my barstool to take a photo to send to my friends Hugh and Kim, who were supposed to meet us that night but had to go out of town.  "See what splendor you missed?" I was going to say.
But when I sat back down, Cujo said to me, "I can't have you taking pictures of the product."
Wha?
"You can take pictures of yourself and your friends enjoying the place," she continued.  "But you can't take pictures of the product."
Whether the "product" was the drink or the animal head or just the whole gestalt, I wasn't sure, but of course from that moment on all I wanted to do was photograph the stupid place, which I immediately loathed, plus watch Cujo concoct my next Freemans Cocktail so I could broadcast its recipe.  So here's the product: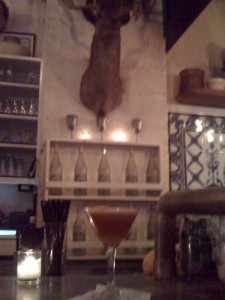 Although you can find the recipe online in a more refined version, this is how the bartender actually made mine:
1 tsp pomegranate molasses (thanks to my son Joe, this is an item we actually have in our refrigerator)
1 jigger lemon juice
1 jigger simple syrup
2 jiggers rye
a dash of orange bitters
Shake over ice, strain into a cocktail glass.  Take a liquor soaked orange peel and set it aflame so closely under the nose of an unsuspecting guest that she screams.  Sip and feel instantly 20 years younger.  Or is it older?
(*This post appeared originally on the blog How Not To Act Old.)
Pamela Redmond Satran is the author of the New York Times bestselling humor book, How Not to Act Old, based on her blog of the same name.  She is also the author of five novels, including Younger and The Man I Should Have Married, and the coauthor of ten baby name books that she's developed into the website nameberry.com.  Her latest project is an online serialized novel called Ho Springs, at hosprings.com.